Butyl Glycol also known as 2-butoxyethanol or ethylene glycol mono butyl ether (CAS-No. 111-76-2) is used in the most cleaning agent formulation of UV washes and in Fountain Solution Formulations for alcohol free printing as an important raw material. Since November 2018 is Butyl Glycol now to classify as "Acute Toxicity Category 3" (H311 toxic on Skin contact). This means Butyl Glycol and products with a content of Butyl Glycol have now to be marked with "skull and cross bones" Hazard labelling GHS-CLP Pictogram GHS06. All products with a content of Butyl Glycol are now classified as high dangerous.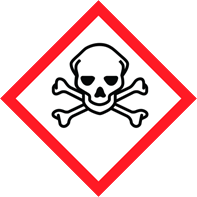 All washing agents and fountain solutions containing Butyl Glycol will be removed from the product approval list of all press manufacturer like Manroland, Heidelberg, KBA , Baldwin and Fogra, irrespective of the date the agent's approval expires. The same situation is with ISEGA (Food packaging approval), all products containing Butyl Glycol will removed from the approval list.
If you need any help to replace Butyl Glycol in your product formulations, please contact us.